REVEREND DR JOHN FRASER (1834-1904)
by David Andrew Roberts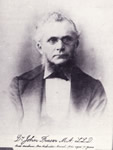 Reverend Dr. John Fraser (1834-1904), Image from Maitland and District Historical Society, A New History of Maitland. Maitland: Maitland City Council, 1983: 35.
Born in Scotland (Perth) and educated at the University of Edinburgh, Dr John Fraser migrated to Australia and lived at Maitland, where he established a High School c1861 at Sauchie House on Church St. (now Maitland Boys High School). An ethnologist, linguist and advocate of Christian missions, Fraser authored numerous scholarly articles, including an essay on "The Aborigines of NSW" that won the 1882 Royal Society of NSW Prise. His crowning achievement was a comprehensive and authoritative edition of Reverend L.E. Threlkeld's language studies, An Australian Language, published in 1892 (Fraser 1892), a monumental work "hampered by his peculiar theories of racial and linguistic origin" (Gunson 1974, I: 1). Fraser died in the New Hebrides in May 1904.